Does anyone else have trouble working up an appetite after a long run?  All day Wednesday, I put food in my mouth that my stomach just didn't want.  I wasn't hungry but knew that recovery nutrition was a must.  It's really unusual for me not to want to eat.
Thursday was a day off from running.  The alarm wasn't set but waking up early enough to take Shane for a substantial 3.7 mile walk wasn't a problem. 
Friday:   The easy paced run today didn't seem to aggravate the foot pain that began on Wednesday, although there is a little something there.  I started off on our NEW TREADMILL!   It's a beast of a machine with one major drawback:  It only allows 2 minutes of pause time.  The old machine gave me a whole 5 minutes if I had to run upstairs for anything.  Just to test it out, I gave it a 4.3 mile go round before Shane and I set off on a  5 plus mile romp.    Total miles today: 9.55.
A silly image gets in my head when I hear the name "Hoppin' John".  I picture an old farmer type dude leapin' up and down because he just took a big old spoonful of this tried and true black eyed pea spiced up favorite.
I love this dish.  It's so full of all the good nutrition that you want in a meal, especially when you use vegetarian sausage substitute.  This will serve 6 people
1 lb black eyed peas – dried beans:  Soak for at least 8 hours. *REMEMBER TO SORT YOUR BEANS.  I've become a bit lax on the bean sorting and when eating leftovers of this dish, I chomped down on a stone.  WELL!  You can imagine!  I just had my root canal done a few days ago so 1.  It hurt and 2. I thought my tooth fell out.   SORT YOUR BEANS!
4 slices soy bacon, chopped
4 Soy Italian Style Sausages, chopped
1 small onion, chopped
1 green sweet pepper, chopped
7 oz can Salsa Verde
1 tsp pepper
3 1/2 cups water (or vegetable broth)
1/4 cup wild rice
Put the soaked AND SORTED beans in a pot filled with water and bring to a boil. Let boil for 3 minutes. Turn off heat, cover and let sit for 1 1/2 hours. Drain.
In a dry skillet, sauté the soy bacon and soy sausages about 4 minutes on medium high.  Add the onion and sweet pepper and continue cooking until soft, about another 4 – 5 minutes.
Add the salsa verde and pepper and stir around, let cook about 1 minute.
Add the soy bacon, sausages, etc. to the beans. Add the rice. Add the water or veggie broth and bring to a boil.  Cover and reduce heat to a simmer for about 50 – 55 minutes or until rice is cooked.
Top with a little grated cheese if you like.  I definitely LIKED!
VOSS'
To look at this old landmark you wouldn't think the place had much to offer and you wonder why there is always a line at the little pit stop.
*That's my dad on the right getting 2 cones for my mother and himself.
Even my dad used to go to Voss' over 20 years ago with a couple of his work buddies.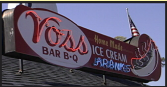 Both Voss' and Holland Farms grew out of the dairy business. Kent Voss is now the third generation to operate the successful Barbecue and ice cream stand that has locals lining up for their famous fare.  Duke Voss is proud to have his son, Kent, at the helm of his family's business.

Do you have a "Voss'" type place in your home town?  You know, the place that has been there since you were a kid and is still popular.
This weekend Ted and I are doing  a Triathlon Relay:  Lake Delta Triathlon.
We found a "fish" out of Syracuse.  Tracy (our swimmer/fish) will do 1 mile in the lake. Ted is our cyclist and will bike 24.8 miles.  I'm the runner for 6.2 miles (10K).  It's all in good fun.  A last minute sign up for all of us so no pressure, just enjoyment.   It's not too late for YOU! Check it out and sign up. Volunteer if you don't want to swim, cycle or run.  Party starts at 10:30 am after the race.
Joanne